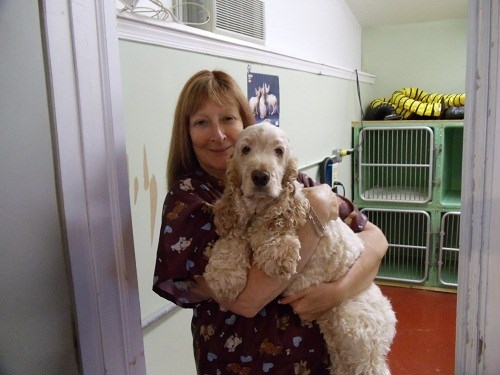 Every animal needs to be groomed as part of a healthy hygiene routine. Regular grooming can help you avoid problems like fleas, ticks, painful matting, skin infection, as well as other conditions that may go unnoticed without the pet being clipped and brushed. Here at Coventry Animal Hospital, the cost of grooming includes a bath, clip, nail trim, and ear cleansing. If your pet needs special attention (anal gland expression, teeth brushing, etc.) please let us know during scheduling.
Contrary to popular belief, shaving your dog in warm weather does not necessarily cool them. Breeds like Golden Retrievers and Huskies have thick fur that naturally insulates them even during the summer. This actually helps these dogs to keep their temperature regulated under normal conditions. Cutting pets coat's too short can even leave them at risk for sun burn just like people!
Dogs as young as 12 weeks old are welcome to visit the hospital to meet Carol, our groomer. This can help them get used to being on the grooming table, being bathed, brushed, and having their nails trimmed. The age for the first puppy haircut depends on the breed, but is often around 16 weeks. Remember that short coated pets need grooming too! We have professional equipment to get rid of that pesky undercoat.
---
Below are estimated prices for specific dog breeds. Prices are subject to change; please call the hospital @ 610.323.9454 for updated pricing and to schedule an appointment. All dogs entering the facility for grooming should have their Rabies, Distemper, and Bordetella Vaccines. Cat grooming is also available:
| Specific Breed | Price |
| --- | --- |
| Australian Shepherd | $65 |
| Bernese Mtn Dog | $85-95 |
| Bichon Frise | $58 |
| Bouvier | $85 and up |
| Cairn Terrier | $55 |
| Cavalier K. Ch. | $52 |
| Cocker Spaniel | $58 |
| Collie | $80 and up |
| Corgie | $50 |
| Specific Breed | Price |
| --- | --- |
| English Springer Spaniel | $65 |
| Golden Retriever | $70-80 |
| Husky (undercoat removal) | $60 and up |
| Lab Retriever w/ undercoat removal | $50 |
| Lhasa Apso | $58 |
| Maltese | $47 |
| Mini Poodle | $52 |
| Pekingese | $47 |
| Pomeranian | $50 |
| Anal Sacs | $20 |
| Canine Sedation | $55 |
| Specific Breed | Price |
| --- | --- |
| Schnauzer | $52 |
| Sheltie | $55 and up |
| Larger Shepherds | $65 |
| Shih Tzu | $52 |
| Standard Poodle | $85 |
| Toy Poodle | $52 |
| Westie | $58 |
| Wheaten | $65 |
| Yorkie | $47 |