June 13th is East Coventry Community Day!
5/13/2015

Date: June 13, noon to 4 PM - rain or shine
Where: East Coventry Township Building
What: East Coventry Community Day features a flea market, food, music, and fun! Coventry Animal Hospital will be there to meet you, give away animal treats, and provide advice to pet owners.
Is Your Dog a RimaDog?
04/30/12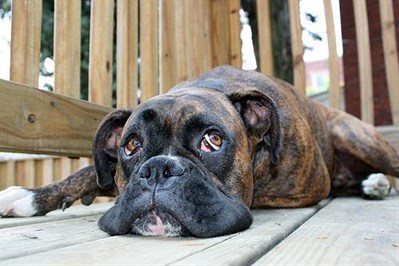 Pfizer recently introduced a brand new initiative to help offset the cost of chronic NSAID therapy for your dogs. The Rimadyl Rewards program is a reimbursement program that actually has real incentive for clients. The cost of a 60ct 100mg bottle of Rimadyl is effectively dropped $10 below even the PetMeds price! Check out the official promotion page here for detailed information.
To take part in this program, you must first create an account on the Rimadog website. From that point, you can submit your receipts from Coventry Animal Hospital or Ludwigs Corner Vet to Pfizer directly. You must spend about $20 dollars on Rimadyl before the rewards 'kick in,' but at that point Pfizer will send you a debit card pre-loaded with money that you can use towards any products or services at the respective hospitals!
5 Hazards Hiding In Your Purse
10/25/2011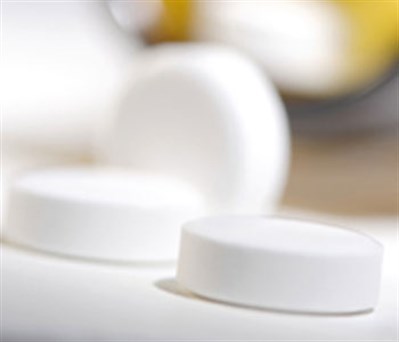 Most people have heard about the most common toxins to dogs: chocolate, onions, and grapes are known to have undesirable effects on our furry friends. However, The Pet Poison Hotline posted an article on DVM360.com talking about 5 dangerous things that dogs and cats can sniff out in your purse or backpack:
1. Sugarless Chewing Gum and Breathmints. Most gums and many mints contain xylitol, an artificial sweetener that is highly toxic to dogs. The ingestion of even small amounts can cause a dangerous drop in blood sugar, and larger amounts can cause liver failure as well.
2. Cigarettes. They're bad for us, and they're even worse for our pets! DVM360 notes that as few as 3 cigarettes ingested by a small dog could result in death. All nicotine containing products should be considered highly toxic to animals, and should be kept well out of reach.
3. Asthma Inhalers. Biting into an inhaler releases massive amounts of medications into your dog's body. These medications can cause lethal "heart arrythmia's, agitation, vomiting, and collapse."
4. Human Pills. "Each year, nearly half of the calls to Pet Poison Helpline involve ingestion of potentially toxic human medications." Non-steroidal Anti-Inflammatory medications like ibuprofen can be lethal in small doses to cats, and even in dogs these drugs must be used with great care and direction from a veterinarian. "Antidepressants account for the highest number of calls to The Pet Poison Hotline." These drugs can cause major neurologic problems like instability, sedation, and seizures.
5. Hand Sanitizer. Travel sized hand sanitizers are more common these days than ever. However, These products contain very high concentrations of alcohol which can be acutely toxic in very low doses to dogs and cats. Ingestion can cause hypoglycemia, coma, and death.
Informational Vaccine Series
9/25/2011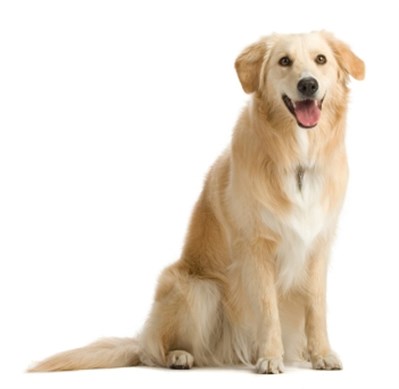 Canine Da2pp Vaccine (Distemper Vaccination)
What we call The Canine Distemper Vaccination is actually a combination of several vaccines. At Coventry Animal Hospital and Ludwigs Corner Vet Hospital, our shot includes Modified Live versions of Distemper Virus, Adenovirus Type 2, Parainfluenza Virus, and Parvovirus. Modified Live vaccines contain actual live strains of viruses that have been altered in labs to be non-pathogenic, meaning non-harmful. Through this method, we are able to expose our pets to dangerous viruses with minimal risk.
Canine Distemper
Canine Distemper is a highly contagious airborne illness that can be transmitted from wild canids (foxes, wolves, coyotes) to your dog. The virus attacks the respiratory, gastrointestinal, and sometimes even the nervous systems of puppies and adult dogs. Animals that are immune-compromised or are under the age of 4 months are at greatest risk, but it can be acquired at any life stage if an animal is left unvaccinated. The first signs of this disease include discharge from the eyes or nose, but the animal's health quickly deteriorates as fever, coughing, vomiting, diarrhea, and extreme lethargy develop. The disease is often fatal, but even surviving dogs can suffer from irreparable nervous system damage.
Canine Adenovirus and Parainfluenza
Adenovirus Type 2 and Parainfluenza are the probably two most common viral causes of what we call Kennel Cough. Kennel Cough is an umbrella term describing inflammation often caused by a combination of viral and bacterial infection (Bordetella bronchiseptica). It is important that dogs with regular exposure to 'unknown' dogs (i.e. dogs that go to the kennel, groomer, Dog Park, or even PetsMart regularly) be vaccinated to ensure their health. It is important to note that the vaccination for Adenovirus Type 2 doesn't prevent a dog from contracting the virus; what it does is limit the severity of the symptoms the virus can cause. The vaccine also has cross-protection against Adenovirus Type 1, which causes canine hepatitis, and because of this trait it is considered a core vaccine by the AVMA.
Parvovirus
Parvo Virus is a gravely serious illness that is highly contagious, and particularly dangerous to puppies under four months old. Reliable figures on the mortality rate are difficult to find, but with treatment, a young dog may still have only a 40-60% chance of survival depending on the circumstances. The virus is spread through direct contact with body fluids or fecal material from an infected dog. The virus is also resilient enough that it can even be transported via infected clothing, collars, leashes, bowls, and unwashed hands of humans who were in contact with an infected dog. Signs to be weary of include lethargy, severe bouts of vomiting and diarrhea, fever, and loss of appetite. Within 48 hours of the onset of symptoms, rapid loss of fluid results in major dehydration, and many dogs can die within 48 or 72 hours of showing signs.
Vaccination Protocol
Evidence suggests that when a good vaccine protocol is followed, the DA2PP vaccination can provide adequate protection against illness for up to 3 years. Puppies should be first vaccinated at 6-8 weeks, followed by 'boosters' of the DA2PP vaccination every 3 weeks until the puppy is 14-16 weeks old. (a total of 3-4 shots). This will provide adequate protection for one year, but the puppy must again be vaccinated with DA2PP at its one year visit. After this point, we will typically vaccinate dogs once every three years at the discretion of the veterinarian.
Thanksgiving safety tips - 2011
11/25/2011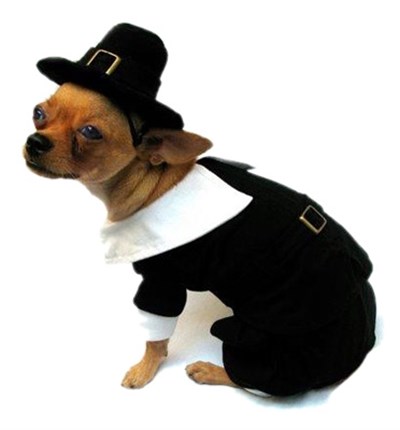 In just one short week we will find ourselves in the middle of yet another Thanksgiving holiday! Thanksgiving is supposed to be a time filled with food, family and fun - and yet year after year the celebration is interrupted by a family pet that got a little too much Thanksgiving cheer. Follow these precautionary steps to avoid being one of the masses in our hospital waiting rooms on black Friday!
Avoid feeding from the table. Feeding turkey meat, skin, and bones are by far the most common causes of vomiting and diarrhea over the Thanksgiving holiday. According to dogchannel.com, insurance companies report an increase in pancreatitis by 78% and gastrointestinal distress claims rise by 27%. The ASPCA's poison control center saw 167,000 toxicity cases over Thanksgiving weekend 2010. Turkey meat and skin are high in fat and turkey bones easily splinter, causing lacerations to the GI tract or obstructions.
Keep a lid on the garbage! Once Fido finds out that begging nicely by the table gets him nowhere, he may take matters into his own paws. Turkey carcasses full of bone, cartilage and string create major gastrointestinal issues, not to mention lacerations from cranberry sauce cans or bones.
Other foods to avoid this holiday season include macadamia nuts, sage, chocolate, onions, nutmeg, grapes, raisins, & ham ( for those that like to mix-up the meats!).
Make your pet his own special dinner. Distract them with special treats such as bite-a-bones, or everyone's favorite Kong stuffed with treats, carrots or a little peanut butter. Giving your furry friend something else to focus on may well save you pet-related drama over this Thanksgiving holiday. ( We only wish we could help you avoid family drama! ) Have a safe and Happy Thanksgiving!!!
- from the doctors and staff of Ludwigs Corner Veterinary Hospital & Coventry Animal Hospital :¥
Christmas 2011 - The Tale Of Three Not-So-Wise Bird Dogs!
12/25/2014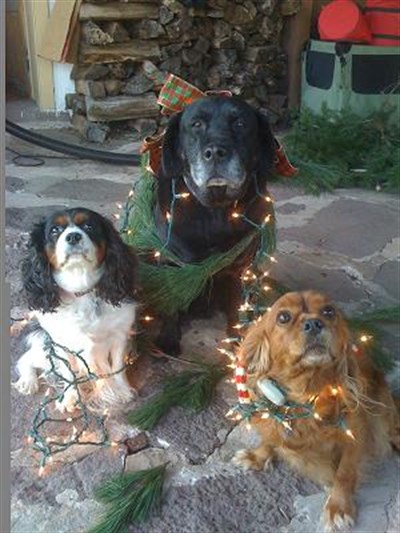 Hopefully you and your pets navigated the Thanksgiving holiday without incident. Congratulations to those that did, and for those that did not, here's a second chance. It is now time to pet-proof the halls for the onslaught of the December holidays!!
There are many holiday hazards to avoid. Below is a list of the biggest....
~ "Christmas Tree, O Chirstmas Tree...." This represents the mother of all hazards wrapped into one! Light strands and cords can cause electrocution if chewed. Tinsel can be swallowed and become lodged in the GI tract causing vomiting at best and requiring surgery at worst. Tree water is universally loved by dogs and cats alike so be cautious of any additives put into the tree water. Some animals have been known to pick low-lying ornaments off of the tree to snack on. My Cavalier Emma "customized" many ornaments during her first Christmas. We commemorated the event by making her vomit ornament remnants. Although she thankfully was fine in the end, she could have gotten herself into BIG trouble. Finally, cats love to climb trees so be sure that the tree is firmly attached in the stand to the floor.
~ "Chestnuts Roasting On The Open Fire...." The open fire is the issue here to be watched. Candles are easily toppled and can burn pets as well as potentially sparking fires. Wood stoves are hot to the touch and will burn noses and paws if access is not restricted.
~ ...Visions of Sugarplums...." As discussed in the Thanksgiving Day issue, many foods intended for human consumption create problems when ingested by our pets. Please avoid feeding turkey, ham, raisins, grapes, and chocolate of any kind. And be aware of where holiday goodies are being kept - my Cavalier Duke was seen on the kitchen table last year helping himself to an undisclosed number of chocolate chip cookies. We had to make him vomit to be sure he did not end up with chocolate toxicity. Although anything in moderation can be tolerated, a better option is to avoid all of the above and make or buy pet-appropriate treats and stocking stuffers.
~ "The Stockings Were Hung...." Keep these up and out of the way! Last Christmas before the stockings were hung with care, my Lab Layla decided to eat her entire stocking - and it was empty. We had to make her vomit to get the stocking out of her stomach before it created an obstruction ( if you are keeping track, this is the final of three that I had to make vomit during Christmas 2010 ). Keep these out of reach, especially if full of treats or toys. Pigs ears, hooves and rawhides are safety issues if swallowed whole. Stuffed animals can be dismantled and eaten quickly so supervise play and discard or repair any amputations.
~ "Grandma Got Run-over By A Reindeer...." Actually all relatives, not just Grandma, are NOT to be trusted! They will feed your pets from the table and leave their guest room door open so that your dog can eat their socks & underwear and their prescription meds. Once the damage is done, they skip town leaving you holding the bag.
I'm sure that there are a few things that I have forgotten, but this hits the biggies. In summary, the best defense is a good offense. Establishing a few family ground rules and a safe zone will go a long way to insuring that you have a Merry Christmas and a Happy New Year!
Feliz Navidad from Rich Marchetti VMD, and all of the rest of us at Ludwigs Corner & Coventry
ps -seasons greetings from Layla, Duke and Emma - the "bad" Marchetti kids. We hope that you learn from our misadventures :)