Darrell M. Hoffman , VMD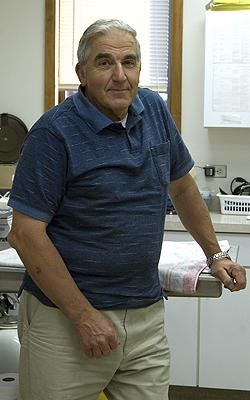 Darrell Hoffman, VMD is originally from Dauphin County, PA. He graduated from Penn State University where he was a member of the Alpha Zeta Agricultural fraternity. In 1967 he received his Veterinary Medical Degree from the University of Pennsylvania. Soon after, Doc Hoffman spent two years in the U.S. Army Veterinary Corps where he was stationed at Fort Jackson, South Carolina and then in Saigon and Phu Loi, Vietnam. Doc Hoffman opened Ludwigs Corner Veterinary Hospital in the basement of his first home here in Chester Springs in 1972. Doc Hoffman is an extraordinary surgeon. Now grandparents of three boys, Doc and his wife Anne live in Chester Springs with their two cats, Babs and Maddie, two turtles, and their African gray parrot named Poco. Though he is semi-retired at this time, after a long career of helping animals, Doc still sees appointments one day a week at each of our two hospitals, and does surgery one day a week at Ludwigs Corner.
Peter S. Levin , VMD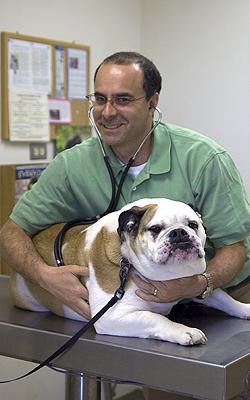 Peter Levin, VMD graduated cum laude from Brandeis University and graduated from University of Pennsylvania School of Veterinary Medicine in 1994. Dr, Levin has been with Ludwigs Corner Veterinary Hospital ever since. During his senior year at Penn, Dr. Levin won the Hills Award for the Dietary Management of Diseases in Companion Animals. Dr. Levin resides in Glenmoore with his wife Heather Clauser, VMD, their two sons, Ben and Zach, their Labrador Retriever Dori and their cat Woody. Dr. Levin enjoys all aspects of veterinary medicine including emergency care and orthopedic surgery, as well as internal medicine. Dr. Levin sees appointments at both of our hospital locations, and does surgery at Ludwigs Corner.
Richard D. Marchetti , VMD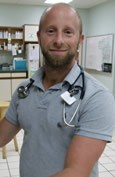 Richard D. Marchetti, VMD has been with the practice since 1996 – first as an assistant while in veterinary school, then as a full-time veterinarian since 1999. Dr. Marchetti grew up in the area and remembers bringing dogs to see Dr. Hoffman at the original Black Horse Road location. He completed his undergraduate degree in biology at Houghton College and his veterinary medicine degree at the University of Pennsylvania. Dr. Marchetti is PennHip certified (PennHip is a hip evaluation system designed to evaluate and maybe someday eradicate hip dysplasia in dogs). He lives in East Coventry Township with his wife Connie, their two Cavalier King Charles Spaniels, Emma and Duke, and their black Labrador Retriever, Layla. Dr. Marchetti sees appointments at both of our hospital locations and does house-calls for your convenience.
Jamie L. Gardner , DVM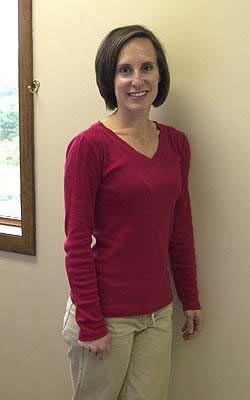 Jamie Gardner, DVM grew up in Malvern, Pennsylvania, then went west to do her undergraduate studies at Purdue University. She then graduated from Michigan State University's School of Veterinary Medicine. Jamie and her husband Steve moved back to Chester County in the fall of 2003 with their son Jaden. Dr. Gardner began practicing Veterinary medicine here at Ludwigs Corner in November of 2003. Jamie and her husband Steve welcomed daughter Alexa in November of 2004. At home they have a Shepherd mix named Jackson, and two cats, Pierce, and Porter. Dr. Gardner sees appointments and does surgery primarily at our Coventry location.
Gillian R. Harclerode , VMD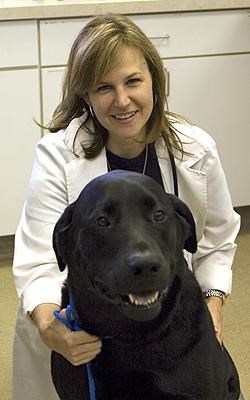 Gillian Harclerode, VMD completed her undergraduate degree at St. Vincent College, Latrobe, PA in 1990 with a B.S. in Biology and a minor in Chemistry. After college she pursued a career in genetic research at Penn State University and the University of Pennsylvania. She then attended the University of Pennsylvania, School of Veterinary Medicine. After working at Lums Pond Animal Hospital in DE, Dr. Harclerode joined our staff in August, 2009 and practices at both our Ludwigs Corner and Coventry locations. She resides in Exton with her husband Aaron, son Dominic, and daughter Isabella. Currently they share their home with a Bernese Mountain Dog named Meeka. In her free time she enjoys spending time with her family, hiking, snowboarding, listening to music, and attending concerts.
Jeanne Dudas , VMD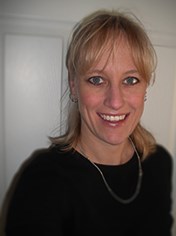 graduated from Loyola College in 1999, and went on to obtain a MS in Animal Nutrition from the University of Delaware. She then graduated from the University of Pennsylvania in 2006 and practiced in Downingtown and Coatesville before joining our staff in 2013.